UW-Stout: Best of Design Exhibits and Student Artists in Residence Recognize Creative Excellence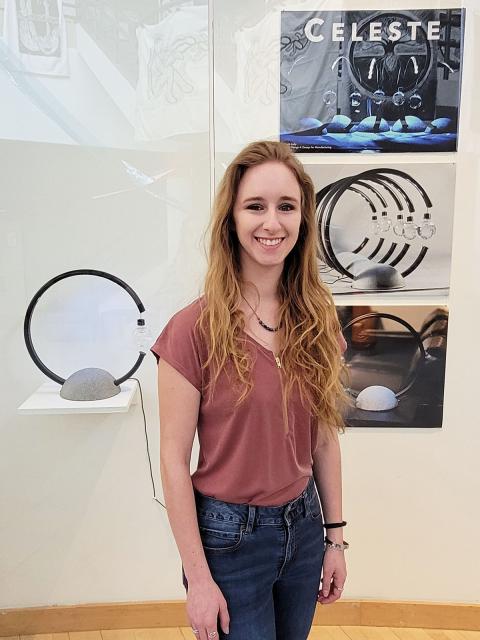 Elizabeth Kelly, an industrial design graduate, has three pieces in the exhibit: "Celeste Lamp", "UV Bag" and "Room & Board Project".
Kelly attended LakeView Technology Academy, a professional high school in Kenosha. In the engineering program, she found her love for design. Her teacher, Matthew Schultz, was an alumnus of UW-Stout Technology Education and had a lot of influence on her development, she said.
Schultz led the Supermileage Vehicle Club at the academy, where Kelly learned the design process through problem solving to create a functional, race-ready vehicle.
"This club helped me develop my skills as a designer and made me question my career," she said. "Mr. Schultz recommended Stout's industrial design program, which was a perfect fit with my interests and who I am as a person. I'm so grateful. I wouldn't have discovered industrial design without him or my experience at Lake View.
Kelly created "Celeste Lamp" during her design-to-make class, where students designed a lamp and replicated it five times.
"Our teacher, David Richter O'Connell, always tells us to push our designs and think outside the box on ideas," Kelly said. "For this project, I wanted to challenge myself and use materials or processes that I didn't have before.
Kelly incorporated concrete into her design as she felt it had a lunar feel to it and sought out forms of illumination, such as glowing algae or dinoflagellates. With the arched shape of the lamp, she was inspired by the anglerfish, a deep-sea predator that lures its prey into its gaping jaws using a luminous appendage on its forehead.