Green design makes a strong impression at Milan Design Week 2022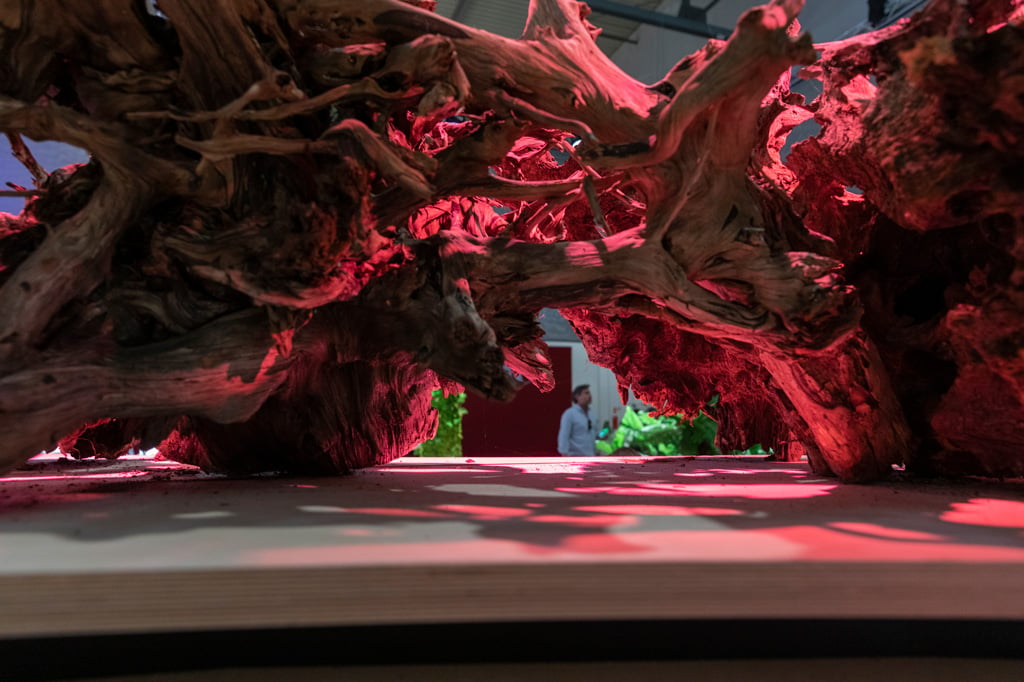 "After fast fashion, the construction and design industries represent the largest amount of waste. We have to accept that using recycled materials and better processes will change the appearance of the buildings and products around us," said Italian architect Mario Cucinella. His Design with nature the installation was the centerpiece of this year's Salone. "[It was] an installation in which we [aimed] to show that our vision of the future must be ecosystem-based and capable of bringing together knowledge, skills and technologies for a new generation of materials and design. The topographical landscape – constructed using planks of carefully selected wood – functioned as a conference room, a library of new sustainable materials, a lounge and a food court offering meals prepared from local produce.
The architect aimed to promote the ideas of total circularity and ecological transition in which cities, rather than the earth itself, become mines of recycled raw materials. This dynamic installation shed light on what has already been done, but also served as a call to action for designers and brands to do more.
Throughout the show, a wide range of brands unveiled new products made from recycled materials. While Italian brand Gan Rugs has launched the latest iterations of Álvaro Catalán de Ocó's Plastic Rivers rug series, handcrafted with 100% recycled PET, Spanish producer nanimarquina has launched Datasheet, the latest iteration of its initiative Re Rug made from leftover wool from its suppliers. By implementing these scraps rather than automatically sourcing new material, the brand can reduce its unmanaged waste and avoid the CO2 emissions that come with standard shipping.
Although the fair had a strong offering with its 2,175 exhibitors, much of the excitement also took place in downtown Milan. Recycled materials could be found everywhere. Los Angeles-based Otherside Objects debuted at the Alcova multiple exhibit venue its reclaimed wood outdoor lounge chairs. At Certosa Initiative, Israeli studio Studio RDD revealed a new use for the millions of disposable face masks that have piled up on the planet over the past few years. The practice considered an easy way to reuse them as padding. Moroso has partnered with Dutch designer Wieki Somers to develop the Somewhere collection, a series of modular daybeds and shelves using Kvadrat Really recycled wool and cotton textile boards.
As wood continues to become an important part of sustainability, several exhibits highlighted its importance. At the Rossana Orlandi Gallery, British designer Brodie Neill has launched Origin, a series of sinuously crafted tables using reclaimed African hardwood parquet planks. New furniture from Finnish manufacturer Vaarnii was also on display here. Upholding an honest approach to carpentry, the company uses native pine that is grown in mass and sustainably managed. The American Hardwood Export Council (AHEC) has teamed up with UK practice Studio Swine to build a huge "cratescape" featuring 22 contemporary works featuring underutilized North American wood.
Milan Design Week has always been about dramatic and immersive scenographies. This year's edition featured biophilia and forests as common themes. Few exhibitions or product presentations have gone without floral or plant arrangements. Perhaps the most striking of these was the Montreal-based lighting studio Lambert & Fils mounted and the Caffè Populaire installation designed by DWA Design Studio, with plantings and flower-based wallpaper furnished by the new studio- yorker SUPER FLOWER. Also staged in Alcova, the aperitif garden was completed with fountains and various applications from the brand's new Silo collection. Calico Wallpaper has teamed up with AB Concept and NUDE Glass to launch their latest Tableau collection. Integrated into an interior garden within the Orobia 15 room, FLOS presented the Nicta collection. These outdoor terminals are carefully calibrated to emit light so as not to disturb certain animal biorhythms and movements.
The famous architect Stefano Boeri has built a real floating forest in the Darsena canal. This unique installation aimed to inspire a sense of awareness and remind visitors to Milan Design Week of the value of nature.
Indeed, the number of new products and projects using sustainability in one form or another was staggering. The focus on this topic did not stop there. Renowned designer duo Formafantasma hosted the Prada Frames symposium throughout the week. The program took a scientific look at the complex relationship between the natural environment and design; the parameters in which the timber industry operates today. Speakers included renowned curator Paola Antonelli, creative director Beatrice Leanza and designer Alexandra Daisy Ginsberg, among other critics and experts.
The idea of ​​sustainability was also expressed in the way some traveled to Milan Design Week 2022. London-based PR firm Zetteler endeavored to reach Milan by high-speed train rather than by short-haul plane. Perhaps the trend will continue.